Latest developments
South African President Cyril Ramaphosa will investigate U.S. allegations that a Russian ship had collected weapons from a naval base near Cape Town last year, his office said Sunday in a statement. South Africa denies the allegations which have caused a diplomatic row among the U.S., South Africa and Russia and called into question South Africa's non-aligned position on the conflict in Ukraine.
Wagner chief Yevgeny Prigozhin claimed Sunday that senior Kremlin officials banned reporting about him on state media. The leader of the Wagner mercenary forces cautioned that such a ban would lead to a backlash from the Russian people within months. The Kremlin did not respond to his comments.
Russian Foreign Minister Sergey Lavrov said the promise by some Western countries to provide F-16 fighter jets to Ukraine is an 'unacceptable escalation,' and accused the West of what he called an attempt to 'weaken Russia,' Russian state-controlled media reports. 'It's playing with fire,' Lavrov said, as quoted by Russia's foreign ministry.
Ukrainian President Volodymyr Zelenskyy Sunday introduced a bill proposing additional sanctions against Iran for 50 years. The draft comes after Russia's Iran-made massive drone attack against Kyiv overnight, the largest since the beginning of its invasion of Ukraine.
Zelenskyy's chief of staff, Andriy Yermak, said Sunday the bill is a response to what Kyiv says is Tehran's weapons supplies to Moscow. The draft includes a complete ban on trade with Iran, on investments, and transferring technologies. If the bill becomes law, Ukraine will forbid Iranian transit across the Ukrainian territory as well as use of its airspace and freeze Iranian assets.
Kyiv and its allies say Iran has been supplying Russia with arms, including hundreds of drones, since Moscow invaded Ukraine last year. Tehran rejects the allegations.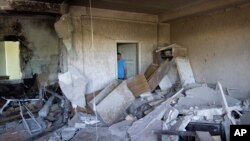 A man inspects his office obliterated by a drone during a night attack, in Kyiv, May 28, 2023.
Initially, Iran denied supplying Shahed drones to Russia but later said it had provided a small number before the conflict began. Ukraine has said Russia has used the drones in major attacks on cities and infrastructure.
Overnight Saturday, Russia launched the "most massive attack" on the city with Iranian-made Shahed drone, said Serhii Popko, a senior Kyiv military official. The attack lasted more than five hours, with air defense reportedly shooting down 52 out of 54 drones, demonstrating Ukraine's air defense capability.
A 41-year-old man was killed and a 35-year-old woman hospitalized from debris that fell on a seven-story building and started a fire, Kyiv Mayor Vitali Klitschko said.
The overnight attack came as Kyiv prepared Sunday to celebrate the anniversary of its founding more than 1,500 years ago.
Myroslava Gongadze reports from Kyiv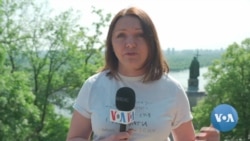 Embed share Ukrainians Mark Kyiv Day after Night of Russian Drone Attacks Embed share The code has been copied to your clipboard. width px height px
No media source currently available
"This is how Russia celebrates the day of our ancient Kyiv," scoffed Zelenskyy about Russia's drone attacks on the Ukrainian capital.
In his nightly video address, Zelenskyy said that Kyiv "will survive [the attacks by] the ruscists," the same way it has survived attacks from many other invaders throughout its history.
"Kyiv and all our cities, our entire Ukraine, will put an end to the history of Moscow's despotism, which has been bringing enslavement to many different peoples for a very long time," he added. "Neither Shaheds nor any other means of terror that it humiliatingly seeks around the world will save it."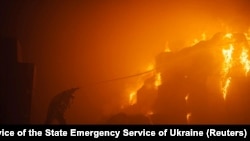 In this photo by Pavlo Petrov and the Press Service of the State Emergency Service of Ukraine, a firefighter works at a factory hit during Russia's attacks on Ukraine, in Kyiv, May 28, 2023.
Meanwhile, the British defense ministry said in its daily intelligence update that Russian state-backed media and business groups want the economic ministry to authorize a six-day work week 'in the face of the economic demands of the war, apparently without additional pay.'
The groups already have petitioned the Russian ministry for the longer work week, the British ministry posted on Twitter.
The update said Margarita Simonyan, described as a 'leading Russian propagandist,' recently called for citizens to work for two extra hours in munitions factories every day, after their regular jobs.
The call for a longer work week without additional pay 'echoes a Soviet-style sense of societal compulsion,' the British update said, adding that the Russian 'leadership highly likely identifies economic performance as a decisive factor in winning the war.'
Ukraine: no compromise with Kremlin
Top Ukrainian presidential adviser Mykhailo Podolyak said Sunday that at a planned peace summit in July, Ukraine will not compromise with the Kremlin.
In an interview with Italian newspaper La Repubblica, Podolyak said, 'Any compromise with the Russian Federation is a direct path to the next stages of the war, escalation, and a significant increase in the role of global terrorism." He said, "After all the large-scale destruction and murders that Russia has committed in Ukraine," the only path to peace is the withdrawal of Russian troops from Ukraine.
When asked whether Russia would participate in the peace summit, Podolyak said, 'What is the point of inviting Russians anywhere after they deliberately attack another country, deliberately violate international law, deliberately fire missiles at civilians? The Russians are absolutely not ready to admit their involvement in a large-scale crime and use any international platform solely to spread their hatred.'
Some information for this story came from The Associated Press, Reuters and Agence France-Presse.